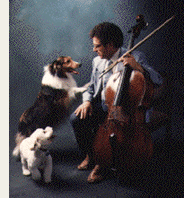 David Sanders of Montagnana Books has been a cellist with the Chicago Symphony for over 45 years. He is the founder and past president (1979-1997) of the Chicago Cello Society, and former editor of the Society's newsletter, The Cello Scroll.
David has been collecting and dealing in violin books and autographs since 1987, and has one of the largest collections of books on string instruments in the world.

Contact Information:

Address: 2734 Garrison Avenue, Evanston, IL 60201
Phone: (847) 864-5991
E-Mail: davidsanderscello@gmail.com
Home · Who Are We? · Business Policies · Catalog · Signatures · Books
Violin Makers/Dealers · Autographs & Photos
Copyright © 1996-2020 David Sanders/Montagnana Books. All rights reserved.
Web design by The Drawing Card.